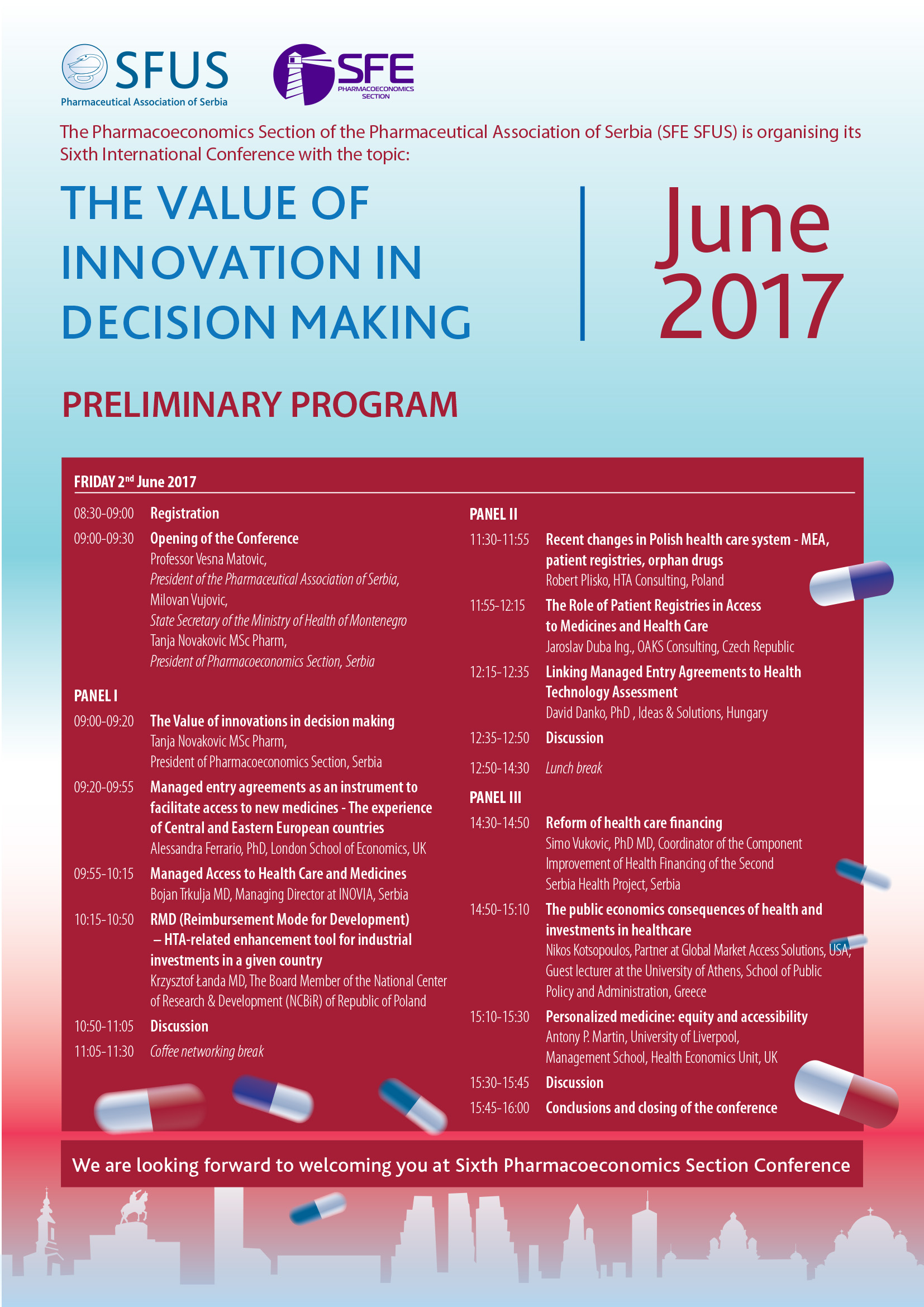 "VREDNOST INOVACIJE PRILIKOM DONOŠENJA ODLUKA"
Sekcija za farmakoekonomiju Saveza farmaceutskih udruženja Srbije (SFE SFUS) organizuje Šestu međunarodnu konferenciju sa temom:
"VREDNOST INOVACIJE PRILIKOM DONOŠENJA ODLUKA"
koja će biti održana 2. juna 2017. godine, Beograd, hotel Metropol, Srbija.
(http://www.farmakoekonomija.org i http://www.farmacija.org/).
Program konferencije će biti proaktivan i jedinstven za Srbiju i region.
Glavne teme konferencije su:
Posebni ugovori
Veza posebnih ugovora i procene zdravstvenih tehnologija
Pristup personalizovanim lekovima, orfan lekovima i skupim terapijama
Posledice ekonomije jedne države na zdravlje i investicije u zdravstvu
Uloga registra pacijenata pristupu lekovima
Konferencija je namenjena donosiocima odluka, kreatorima zdravstvene poitike, menadžerima u zdravstvenim ustanovama, zaposlenima u farmaceutskim kompanijama (u sektorima pristupa tržištu, formiranja cena, zdravstvene ekonomije, regulative, marketinga i prodaje), lekarima i farmaceutima koji rade u javnom i privatnom sektoru.
Učesnici konferencije će imati priliku da steknu nova znanja od strane poznatih svetskih eksperata i razmene iskustva i mišljenja.
Učesnici konferencije
Kotizacije za konferenciju
Do 25.marta 2017.
Od 25.mart 2017.
SFUS Članovi
225 €
275 €
Ostali
300 €
350 €
Studenti osnovnih studija
100 €
150 €
Večera – Upoznajte eksperte
50 €
50 €
IZVRŠNI ORGANIZATOR Agencija SMART TRAVEL PCO, Njegoševa 72a, Beograd, Telefon: + 381 11 770 2184 Fax: + 381 11 244 7524,E- mail adresa: smarttravelpco4@smarttravelpco4.rs Web adresa: www.smarttravelpco4.rs
Poštovane i drage koleginice i kolege,
Izuzetna mi je čast i zadovoljstvo da vam čestitam jubilej Sekcije za farmakoekonomiju Saveza farmaceutskih udruženja Srbije i da nam poželim još uspešniji i kvaliteniji rad!
Povodom 10 godina od osnivanja Sekcije dala sam intervju koji je objavjen u BB Soft Informatoru.
Srdacan pozdrav,
Mr sci ph Tanja Novakovic
Predsednica Sekcije za farmakoekonomiju SFUS
Dear Colleagues,
We are pleased to announce that our partners at Arcana Institute have agreed to provide all participants of the 5th SFE SFUS with full access to CEE-focused daily information service – Market Access Sentinel.
Market Access Sentinel provides up-to-date information on most important market access and reimbursement related topics. The information is hand-picked by the Arcana Institute experts and presented in several categories to easily find the interesting data. These are available to you through:
•
www.masentinel.com website;
• daily newsletter.
Information on new recommendations on reimbursement, legal changes, marketing authorisations, safety records, clinical trial milestones and most important events are all readily available and searchable at the website. The portal allows you to track similar topics back in time as well as tag important information to present only customised details, e.g. only recommendations of selected HTA agencies or particular health technologies.
At the same time the personalised newsletter ensure you will never miss out on information interesting to you as it will be delivered to your inbox every day in an easily accessible and transparent form.
The data is collected through cooperation with a network of CEE experts and from more than 150 international sources. These include websites of public authorities, regulatory and HTA agencies as well as popular websites on pharmaceuticals and news portals. NICE, SMC PBAC, HAS, PTAC, NCPE, IQWiG, CADTH, SBU, ICER, AHRQ KCE, AWMSG, AQuAS, Prescrire are all monitored.
All access details will be provided to you by the Arcana Institute directly by e-mail.
Izazovi za efikasno zdravstvo Centralne i Istočne Evrope
Sekcija za farmakoekonomiju Saveza farmaceutskih udruženja Srbije (SFE SFUS) organizuje Petu međunarodnu konferenciju sa temom: "Izazovi za efikasno zdravstvo Centralne i Istočne Evrope" koja će biti održana 9 - 10. oktobra 2015. godine, u Beogradu (http://www.farmakoekonomija.org i http://www.farmacija.org/).
Pružaoci zdravstvene zaštite u Centralnoj i Istočnoj Evropi suočavaju se sa širokim spektrom jedinstvenih i teških izazova koji se moraju rešiti da bi se zadovoljile rastuće potrebe i očekivanja zdravstvenih usluga i tehnologija. Finansiranje zdravstvene zaÅ¡tite, nedostatak dokaza kao problem prilikom donoÅ¡enje odluka i druga važna pitanja kao Å¡to su specijalne bolesti i uloga lekova u njihovoj terapiji biće teme ove konferencije. Njen cilj je da odgovori na ove specifične probleme i pruži reÅ¡enja koja će omogućiti učesnicima u zdravstvenom sistemu da doprinesu poboljÅ¡anju zdravlja stanovniÅ¡tva.
| | | |
| --- | --- | --- |
| Kotizacije za konferenciju | do 25. juna 2015. | posle 25. juna 2015. |
| SFUS Članovi | 300 € | 350 € |
| Ostali | 350 € | 400 € |
| Studenti osnovnih studija | 100€ | 150 € |
| Večera – Upoznajte eksperte | 50 € | 50 € |

On behalf of the Central and Eastern European Society of Technology Assessment in Health Care we invite you for 9th International Symposium of Evidence-Based Health Care "The HTA for Healthcare Quality Assurance" that will take place on December 15-16, 2014 in Cracow, Poland.
Chasing own tail? // Session: Guidelines for HTA – developments
If traffic rules, road signs and powers of uniformed services were changed every few years, we would live in unimaginable chaos. It is therefore remarkable that this state of affairs is maintained in the field of health technology assessment guidelines.
Quality, what does it even mean nowadays? // Session: Quality assurance in the system
Since the 1990s, the word "quality" has already been (ab)used in all possible contexts. The industry provides "quality", hospitals increase "quality", patients insist on "quality". Also politicians tend to use the slogan "quality" to fill blanks on their banners. It's high time "quality" ceased to be just an empty word in Poland. We have to learn how to capture it, translate it into rows of numbers and finally assess it.
Project tourism // Session: How does funding translate into improvement
EU-funded projects dedicated to quality in health care offer good wages, extensive contacts, great splendour and the possibility of exploring attractive destinations in Europe. What follows is a lot of documents which recommend implementing changes. But that is often where all activities end. Maybe that's for the best, because, although every improvement is a change, not every change is an improvement.
Is lack of imagination a disease? // Session: Aspects of quality in oncology
Despite the numerous pompous declarations in the media, exalted campaign slogans and the experts' "work in the sweat of their brow", the Polish health care system is becoming increasingly less friendly to the patient. Recently the media fuss sparked feverish work on the improvement of care for oncology. Apparently, on 1 January 2015 everything will change for the better. Unfortunately, we find it hard to believe, given the absence of a feasibility study, and even the lack of tools to measure the announced quality improvement.
But how did other countries go about that?
For adults only // Session: Quality standards in clinical practice - paediatrics
In Poland, infant mortality remains the main quality measurement ratio in paediatrics. Other elements of the childcare system are not examined. By avoiding the use of EBM in paediatrics we do bypass many ethical dilemmas, but we also give up powerful tools which facilitate decision-making, improve effectiveness of treatment and therefore improve the quality of the system's functioning.
There's no such thing as Santa Claus! // Session: Multi-criteria decision making
The perfect healthcare system which would allow meeting health needs of all citizens does not exist. Unfortunately, this truth applies regardless of the affluence of the country and great technical capabilities. Insufficient funds mean that it is necessary to make difficult choices: who should receive access to treatment and in what order.
A thousand lawyers at the bottom of the sea // Session: Legacy in the health care system
Can there be anything worse than inefficient health care system? Yes! The legal framework for an inefficient health care system. Let's see why it is the way it is and who is to blame.
Planned sessions are an expression of our intention to make the ninth edition of the EBHC Symposium the platform agreement of all parties interested in positive changes in the Polish health care system. We hope for your interest and support of colleagues from the CEE countries and other parts of the world. You are welcome!
Aces of the sky // "Meet the experts" gala dinner
This year's biggest surprise will probably be the venue: Polish Aviation Museum in Krakow.
Join us at the evening meeting in a hangar filled with planes. We hope that the presence of such legends like Spitfire and PZL P. 11 c will inspire everyone to exceptional acrobatics on the dance floor. Costumes with aviation touches are very welcome!
The guests will be enjoying music performed by the band Freshback. Thanks to the talent and the huge personal charm of the female singers, the band enjoys great popularity particularly among men.
Članak o IV međunarodnoj konferenciji Sekcije za farmakoekonomiju SFUS "Donošenje odluka zasnovano na dokazima u zdravstvu centralne i istočne Evrope
Expert Review of Pharmacoeconomics & Outcomes Research
Alessandra Ferrario 1, Dragana Baltezarević2, Tanja Novakovic3, Mark Parker4 and Janko Samardzic5
1 Fakultet za ekonomiju i političke nauke u Londonu, London, Velika Britanija
2 Republički Fond za zdravstveno osiguranje (RFZO Beograd, Srbija
3 Sekcija za farmakoekonomiju Saveza farmaceutskih udruženja Srbije, Beograd, Srbija
4 Fakultet za menadžment, Katedra za zdravstvenu ekonomiju, Univerzitet u Liverpulu, Velika Britanija
5 Medicinski fakultet, Univerzitet u Beogradu, Beograd, Srbija
---
INTERVJU sa Predsednicom Sekcije za farmakoekonomiju SFUS mr sci.ph Tanjom Novaković- Donošenje odluka zasnovano na dokazima u zdravstvu centralne i istočne Evrope
Ponedeljak, 4. Avgust 2014